Schools
Churston Ferrers Grammar School, Torbay, Devon
Churston Ferrers Grammar School is a specialist humanities centre and is committed to becoming a Sustainable School. GlobalEd has enjoyed a profound relationship over the past 5 years helping develop its programme of Sustainable Development Education (ESD). This has had its main thrust in the form of the 'Global Dimension' and Churston's partnership activities with Peru, but has also helped shape other areas of ESD development throughout the school.
ESD starts way before Year 7 for Churston students. Four of Churston's feeder primaries are heavily engaged in a simultaneous programme of ESD development and implementation so that students have a learning experience that evolves from Yr 1 through to 6th Form and beyond.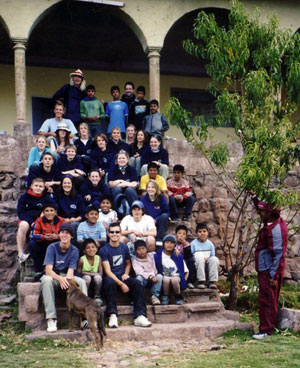 Beyond its influence on its principle feeders Churston is also a keen promoter and founder of the Torbay Global Education Network, something that could be replicated by other specialist schools in other regions. For its commitment to ESD Churston is fast becoming a flagship school but is under no allusion that it is anywhere near 'sustainable' yet.
What is unique about Churston's influence is that teachers, students and the wider communities of partner schools in both Torbay and Cusco are discovering sustainability together. There is still a long way to go before we achieve a sustainable planet but what is for sure is that having quality ESD in both the UK and Peruvian systems is vital and that with this programme of collaboration there are effective mechanisms of resourcing being developed.
You can read the full story by referring to the accompanying documents and presentations.
For more information please visit www.churstongrammar.com
St Columb Minor Primary School, Newquay, Cornwall
The students, staff and parents of St Columb Minor Primary School have been benefiting from their solar installations, generating clean energy and powering their classrooms with the sun. Wow. They have also of course been learning all about renewable energy and how we are changing from traditional fossil fuels to power our lives.
The investigations do not stop there either. As part of their global dimension students have been learning about energy use in Peru and have set up a link with a tiny primary school, 'Escuela José Sevilla Escajadillo', on the coast of Peru. Students are starting to learn all about energy use and life in general in each other's countries.
Reducing the carbon footprint at St Columb Minor is a very important step for the school and the commitment extends to their new partners in Peru.
The school are cofounding the installation of solar showers and solar cookers at 'Escuela José Sevilla Escajadillo'. Teachers and students will also have demonstration kits to help investigate and teach the various applications of renewable energy.