About GlobalEd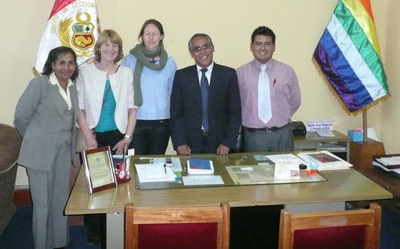 "For us to acquire the necessary awareness, values, skills and knowledge for the 21st century, we need to consider our whole world as the classroom."
Tom Jolly, Director GlobalEd
Understanding sustainable development goes beyond the classroom, the school grounds and the city limits.
By studying sustainable development for a country as ecologically and culturally diverse as Peru and by comparison a country as technologically and socially developed as the UK, the Global Dimension for any given curriculum can be brought alive in a truly interdisciplinary manner.
Our vision: that all schools are able to contribute to a sustainable future
Our mission: to proactively contribute to the development and implementation of Education for Sustainable Development specifically in Peru and the UK
What is GlobalEd?
GlobalEd - Global Education for Sustainable Development is a Community Interest Company registered in the UK, Company Registration No. 6778683, based in the south west of England and in Lima, Peru, dedicated to supporting the development and promotion of Education for Sustainable Development (ESD). Promoting a global dimension to sustainable development, GlobalEd exists to enable better institutional support to the educational communities specifically in Peru and the UK.
GlobalEd works in partnership with individuals, schools, NGOs, local authorities, business, universities, and institutions in the UK and Peru, both supporting their emerging needs and drawing upon their local experience in Education for Sustainable Development over the past 20 years.
GlobalEd, through its partners, is able to consider the most progressive educational aspirations, whilst providing a global dimension to basic curriculum needs.
GlobalEd believes in supporting partnerships between the educational communities in Peru and the UK to achieve a better understanding of sustainability and global dynamics. GlobalEd considers those partnerships can contribute to the very economic sustainability of Education for Sustainable Development in both regions.
GlobalEd promotes global linking to individual schools under the umbrella of cluster or regional initiatives, allowing many small-scale activities to have an overall impact on larger communities or programmes of sustainable development education.
What does GlobalEd do?
Simultaneous development and implementation of ESD with educational establishments in the UK and Peru:
For more information please see Projects and Programmes.